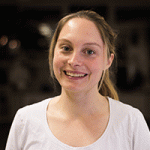 Where am I from?
Hallo, my name is Alice Wellum. I have an academic background in psychology (MSc) and education (teacher higher education). Next to my academic endeavors, I have been studying martial arts for over 10 years; WuShu, Kung Fu and Tai Chi. Besides martial arts, I have also studied massaging that strengthen the body.
What can I do?
Within EQ Maastricht I am a masseur and teach self defense for women. The massages are tailored specifically to the person. I'm specialized mainly in sports and relaxation massages, which help bring peace to the mind and soul. This helps to create focus and space leading to a new perspective on and feeling about life.
In my self-defense class, women are taught to learn how to be strong. I also teach effective methods to defend themselves in both daily and abnormal situations.
With massages and self-defense I combine my knowledge of the human body. Next to this, the person is central during every massage and classes I teach. This helps scope and the endurance of the effects of the massage and classes.
What can I do for you?
Maybe you are interested in strengthening your body both at work and at home. Maybe you are in need of some relaxation. Whatever you are looking for, you are most welcome to join a class or get a massage.