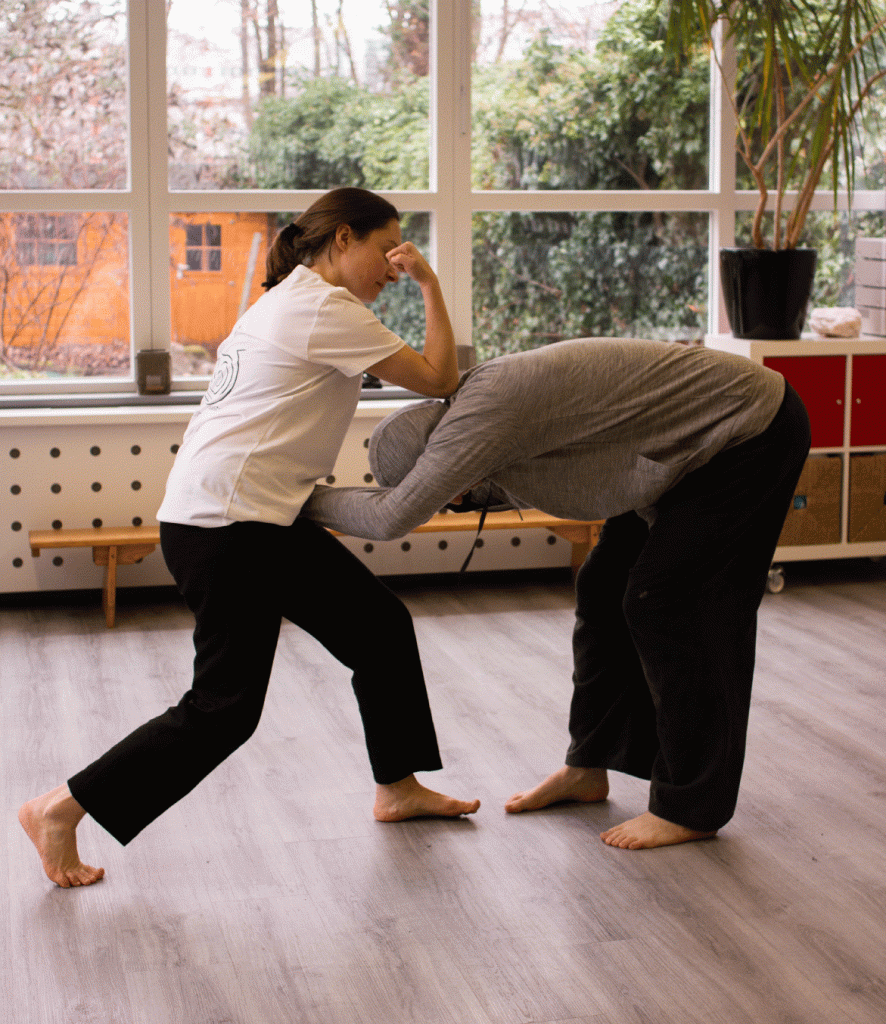 What is it?
Self-Defense for Women teaches women to find their unique strengths and look after themselves in all kinds of situations. Each session focuses on enhancing balance and making your body stronger; important prerequisites to moving and acting powerfully. The second part of the training is dedicated to effective self-defense techniques, such as how free yourself if somebody is holding you down, what you can do if somebody grabs your hair, and other scenarios.
What is the result of this training?
A stronger stance in daily life as well as knowledge and experience of how to defend yourself (and others) in unexpected situations.
When?
–Tuesdays, 16:00 – 17:00
-Tuesdays, 20:00 – 21:00
-Please also check our agenda!
Practical information
Physical strength or a sportive background is not necessary; the motivation to learn and maybe also to laugh about yourself at times is. We are a friendly group where everybody is welcome and in which personal boundaries are respected. This group is open to women who want to know more about self-defense, are interesting in an easier form of combat sport, or would like to strengthen their bodies and minds. It is taught by female teachers.
We train on bare feet. Please bring clothes which allow you to move comfortably.
You are welcome to join a trial lesson free of charge!
Nederlands:
Zelfverdediging voor vrouwen
Wat is het?
'Zelfverdediging voor vrouwen' zijn lessen die helpen om vrouwen meer in hun eigen kracht te laten staan. Dit houdt in dat we bijvoorbeeld in het eerste deel van de les oefeningen doen om ons lichaam sterker te maken en ook onze balans te verbeteren.  Daarnaast wordt er ook naar de mentale houding gekeken en leren we hoe we sterker in het alledaagse leven kunnen worden. In het tweede deel van de les leren we effectieve zelfverdedigingshandelingen, zoals bijvoorbeeld hoe je uit een bepaalde grip komt, wat je kunt doen als iemand je bij je haar pakt en nog veel meer andere dingen!
 Wat is het resultaat van deze training?
Het resultaat van deze cursus is dat je leert om in het dagelijks leven sterker te staan, maar ook wat je in uitzonderlijke situaties kunt doen om jezelf (en anderen) te verdedigen.
Wanneer?
Dinsdag
16:00-17:00 uur
20:00-21:00 uur
Check ook onze agenda.

Praktische informatie
Fysieke kracht of sportieve achtergrond is bij deze cursus niet nodig, de wil om te leren en soms om jezelf te lachen wel. We zijn een open groep waar iedereen welkom is en die de grenzen van de ander respecteert.
We trainen in sokken of op blote voeten. Neem kleding mee waarin je gemakkelijk kunt bewegen.
Kom een keertje langs voor een gratis proefles!