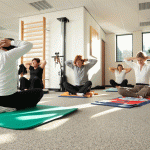 Developed by EQuilibrium Maastricht, this type of gymnastics uses exercises from Hatha-Yoga, Tai Chi and Mensendieck Therapy. The classes are 1 hour.
The class starts with a warming up, flows into standing exercises that are focused on posture, coordination, balance, suppleness, breathing and condition. Next, we exercise on the mat to improve flexibility, (core)stability and muscle strength. The class ends with lying down relaxation exercise and a sitting breathing/meditation exercise.
The weekly Mensendieckgym class aims to strengthen the body in a relaxed way, you will learn how to breath and move more easily. Mainly those with recurring injuries (often due to their profession) will benefit from this way of exercising.
When?
Wednesdays from  9.00 to 10.00.
Check our calender.
Practical information
The class is bare-foot.
Mats, (meditation)cushion and blankets are available, but please bring your own towel and a sweater for the last part of class as you might cool down.
Mensendieckgym is also available at other locations:
Gymzaal Schimmert on Wednesday afternoon from 13.30 to 14.30.