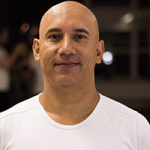 Where am I from?
My name is Kierty Verbooy, born in the Netherlands. I have trained in classical Martial Arts since I was four years old. Initially, I had been studying Japanese styles (e.g., Judo, Karate Aikido), after a while I familiarized myself with several Chinese Kung Fu and Wu Shu styles.
Moreover, the Martial Arts training I received from several different masters also consisted of massage, acupuncture and breathing-exercises amongst others. Healing techniques that were taught to cure injuries caused by training can also be used to relief physical problems that occur in daily life. As a teacher of classical Martial Arts you are responsible for those you are educating.
Next to my Martial Arts training I have taken several health and diagnostic-related courses.
What can I do?
I teach Martaial Arts, Tai Chi and massage. Besides this, I own a massage practice and am mainly occupied by unwinding the mind and body through touch and conversation.
What can I do for you?
Strengthening the body through (Martial Arts) training.
Increasing stability and coordination through practicing Tai Chi
Letting you experience space and relaxation through massage
Providing support on how cooperation of body and mind can be improved.