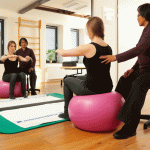 Mensendieck Therapy is a paramedic therapy type, specialized in changing behavior and habits regarding physical exercised and movement. The individual therapy focuses on self-reliance of the client. The therapist will help the client to gain insight into the problem and will work with the client to analyze how to tackle it. Sometimes, ergonomic changes are deemed to be necessary, but incorporating a set of exercises in daily life might also be helpful.
There are numerous exercises from Mensendieck Therapy, Yoga and Martial Arts that can help you to:
Relax
Optimize your posture
Supple the joints
Maintain and improve muscle ability
Free your breathing
Through years of experience as a Mensendieck therapist and practitioner of Yoga and Martial Arts, Jeannette can coach athletes and specifically Yoga and Martial Arts students, specifically with (recurring) injuries.
Practical Information
Health insurers reimburse Mensendieck Therapy, dependent on your type of supplementary insurance.
In our practice we chose not to have contracts with health insurers, such that your 30 or 60 minute treatment is not subjected to administrative proceedings and you will have our full attention.
Consults
Are at least 30 minutes and are 30 euro.
Can last 60 minutes and costs 60 euro.
You will need to bring your own towel.
Confirmed appointments can be cancelled up to 24 hours prior to the appointment, late cancellations will be charged.