Dear Martial Arts Week friends,
The Martial Arts Week is a non-profit event; they ask only for enough money to cover costs like food, accommodation, etc. . Still for some people it's quite a sum of money to put down. We heard about people not being able to join as their income is too low, and we think this is a shame. Your income does not say anything about your motivation to join. This made us think. Why deny anyone this wonderful experience?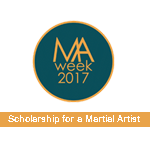 Scholarship fund
The organization of the MA week is not able to provide a free of charge place, but have agreed to keep one place available as we are trying to make for a (partially-) funded scholarship . Call it a Scholarship for a Martial Artist or a Martial Artist in Residence fund if you want!
The plan
So what's the plan? We would like to offer 1 free place for the MA-week 2017; meaning hopefully free of charge or with a mayor discount. It all depends on how much we can crowdfund together. And yes that means we need help!
How can you help? If you would like to donate something….either money, your talent and time, a cake or other things to sell or use for a small lottery and/or mini market. It would help us gather the funds together and make at least one person very happy!
Crowdfundevent
On Saturday 8th of July there will be a crowdfunding event from 10:00 till 17:00 in the EQ-dojo. During this day you can join some lessons (WuShu/Tai Chi) and massages; donation based (all-in the benefit of the scholarship of course), you can buy snacks and there will be a small lottery where you can win some small prizes. There are people donating their time, for example coaching or massages at a later time as well.
Why?
We love the MA-week. The teachers are inspiring, motivated and passionate about what they do. The organization has proven to create a safe environment in which people can go through their own personal development while being in a group that empowers them. Everything is carefully thought about: the training, good food, location, and massages. Most participants say it has almost been a life changing experience.
Who is going to get the scholarship?
People who do not have enough money to join but have the time and willingness to learn can apply. They will have to let the organization know why they want to join and they think they should get the spot. Important to this is their motivation, which they can indicate via a small essay (at least 1 A4), a film in which they explain why they want to join, or even via an art work. All need to be entered before Wednesday 19th of July. The winner will be selected based on their motivation and evidence of not being able to afford the regular fee. The winner will be personally contacted and informed on Saturday 22 of July. (So if you apply you also have to be available to join!!)
Would you like to help us or apply? Send a PM on the MA week Facebook page or email to: maweek@eqmaastricht.nl
It would be very much appreciated if you could share this with your friends/family or other people interested in the MA week. Thank you very much for your support!! We are happy to be able to train but we are also very happy to help people who would like to train, enjoy and have fun.
With all respect,
Alice and team